This post contains affiliate links. You can read my Affiliate Link Disclosure here.
The Hickory Hill Ear Warmer is a quick, beginner friendly crochet pattern. It uses double crochet stitches in the back loop (BLO DC) along with back loop only slip stitches (BLO SLST). This creates a fabric that has great stretch and recovery.
The Hickory Hill Ear Warmer is worked flat and slip stitched together once you reach your desired length. Adjusting size is as easy as adding or taking away rows for the length and adding or taking away stitches for the height.
I make these Hickory Hill Ear Warmers for Autumn Craft Shows. Customers purchasing them appreciate the simplicity, warmth, fit and that they are easy to just stash in a bag or a pocket.
If you would like to purchase a copy of the pattern with additional tutorial photos, the Hickory Hill Ear Warmer Pattern can be purchased on Ravelry and Etsy.
If this is your first time working with the back loop only slip stitch (BLO SLST), I encourage you to give it a chance. It can be fiddly at first but with practice it will get very easy and hopefully be a stitch you turn to for projects needing stretch AND recovery. I use for most of my hat brims. It's a great technique to have in your crochet stitch arsenal.
Tips for Back Loop Only Slip Stitch-
Try to keep your tension loose.
Go up a hook size if you need to.
If your hook just isn't working, consider trying it with an inline hook instead of a tapered one (or tapered instead of inline).
Pull several lengths of yarn from your skein so your yarn is nice a loose to work with. Having to pull the yarn while crocheting the back loop only slip stitch can tighten up the stitch.
Finished Measurements
Approx. 3.5″ x 8″
Materials Needed
G/6 Hook (4mm) I used a Furls Streamline Swirl Galaxy in Virgo
Approx. 1oz/22g (42yd/38m) #4 worsted weight yarn (this will vary depending on the specific yarn used and the size you are making)
Yarn Needle
Tape Measure
Scissors
Stitches
CH-Chain
BLO SLST-back loop only slip stitch
BLO DC-back loop only double crochet
SLST-Slip Stitch
Notes
-Ear Warmer is crocheted flat.
-The short rows of 3 BLO SLST are what create the stretch and recovery.
-If you want your ear warmer taller, increase your beginning chain and add those extra stitches in the DC section of the row.
-If you want your ear warmer shorter, decrease your beginning chain and reduce your number of DC.
-I don't give a number of rows to crochet. For an adult size ear warmer I crochet rows until the ear warmer measures approx. 16″ and then slip stitching the last row to the first row. For child size, I suggest approx. 14-15″.
Basic Rib Stitch Ear Warmer Crochet Pattern
Row 1- CH 15 loosely
Row 2- SLST in 2nd ch from hook and in next 2 Ch, DC in next 8 CH, SLST in each of the last 3 CH. CH 1, turn work.
Row 3- BLO SLST into the 3 SLST from the previous row, CH 1, turn work, BLO SLST into the 3 BLO SLST just made. Ch 1 turn work.
Row 4- BLO SLST into the 3 BLO SLST from the previous row, BLO DC in next 8 DC stitches, BLO SLST into the last 3 BLO SLST. CH 1, turn work.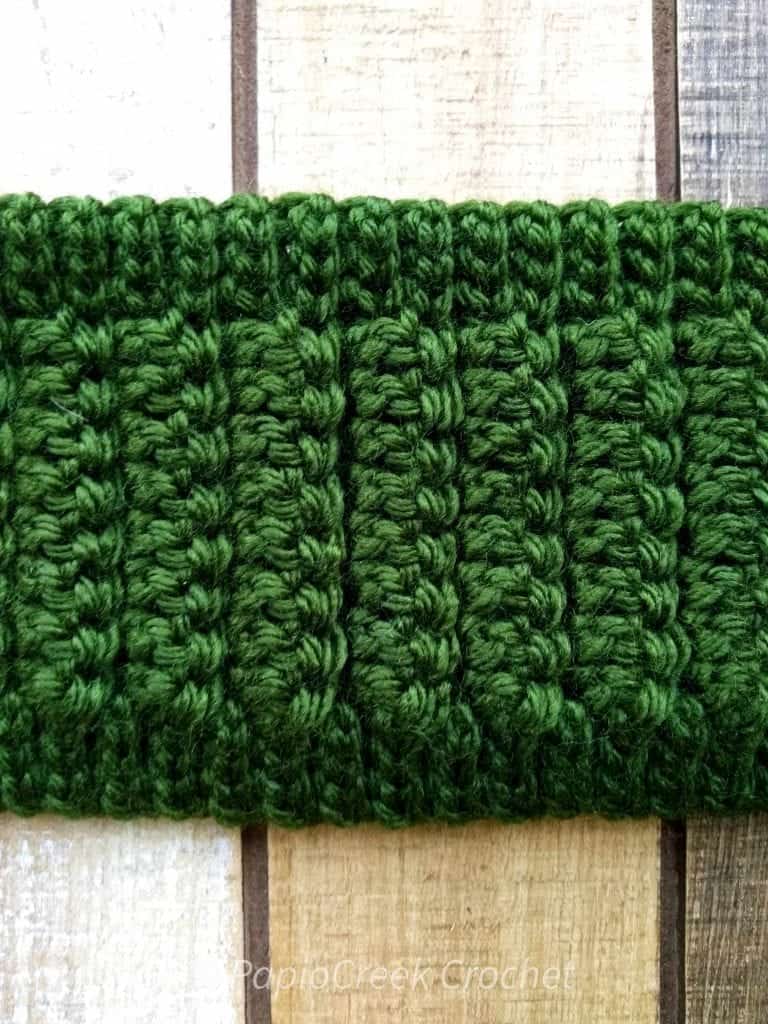 Repeat rows 3 and 4 to desired length (aprox 16" for adult size). End on a Row 4 repeat.
Line up short ends and SLST the ends together. Cut yarn and weave in ends.
I love seeing your work! Be sure to tag @papiocreekcrochet so I can admire your makes with my patterns!
Check out my Stripey Plaid Ear Warmer Crochet Pattern on the website!